VoIP calls
What is VoIP?
VoIP (Voice over Internet Protocol) is a technique makes it possible to make a voice call by internet. It is an alternative to voice calls using traditional telephony.
VoIP on Chater
Chater users, using standard, premium, and ultra accounts can make phone calls. Chater also allows to use VoIP. VoIP calls take place in the same way as using a phone, only the number that the consultant gives on chater account setting up is a VoIP number.
To use VoIP calls, you need to have an account with one of the VoIP operators, such as
SuperVoIP
. After passing through the registration process, authorization is required. It can be done by sending a traditional transfer of at least PLN 20, which will be credited to the SuperVoIP account and by sending a scan of invoices for the mobile phone provided during registration. A net fee of PLN 1 PLN per month is charged for using SuperVoIP.
The VoIP number that will be sent to us by the service provider should be specified in
account settings
.
If you forget or lose your number, you can check it at any time in the
SuperVoIP
panel in
My account
. It is displayed in the
public number
section:

VoIP call handling
VoIP calls are operated by dedicated devices and programs. For example, we can use
Zoiper Classic
. Before we start its installation, we need to generate a new password for the service on SuperVoIP website (this will be a different password from the one we use to log in to SuperVoIP account). To do this, after logging in to our SuperVoIP account, we must go to
My account
->
Account Maintenance
and click on the
Generate new password link and send it to my e-mail address
: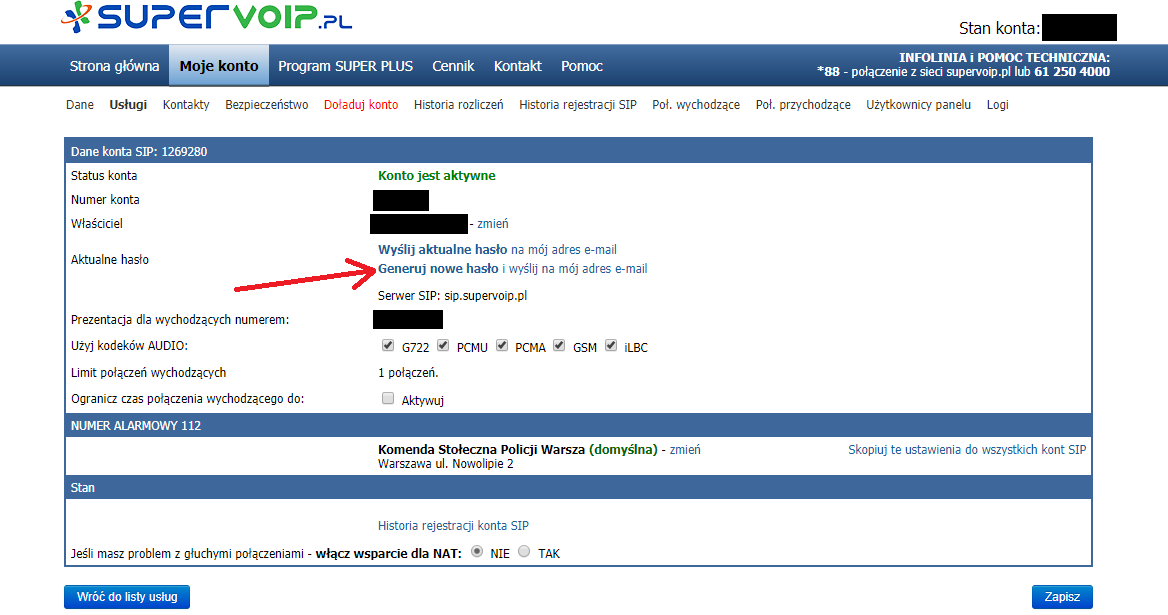 We will have to use this password when configuring the service in Zoiper Classic. You will find the full configuration instructions on the website:
https://www.supervoip.pl/pomoc/darmowe-aplikacje-voip/komputer-pc-z-systemem-windows/zoiper-classic-dla-windows